Photo guide to mechanically-damaged roof shingles & mineral granule loss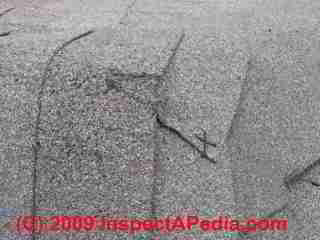 POST a QUESTION or COMMENT about damage to roof surfaces or shingles caused by mechanical means, not natural wear or weather
InspectAPedia tolerates no conflicts of interest. We have no relationship with advertisers, products, or services discussed at this website.
Mechanically-damaged roof shingles:
This roof shingle damage diagnosis article describes the causes and effects of mechanical damage to shingles from a variety of sources: foot traffic, tears, punctures, tool cuts, or damage during shingle installation. We illustrate asphalt shingle failures due to use of roof shingle staples, improperly applied.
The results of mechanical damage to asphalt shingles includes mineral granule loss from the shingles, leaks, or simply shorter roof life.
Other common asphalt shingle failure factors discussed in this article series include improper storage and handling of the asphalt shingles before installation, improper nailing, improper flashing (which pertains to any roofing material), and defective asphalt shingle product material leading to thermal splitting, cracking, blistering, staining, and in some cases curling or cupping shingles.
Here we describe the following: Shingle granule loss due to foot traffic or other shingle damage; roof damage during inspection in hot weather? Shingle damage due to cuts, tears, misaligned roofing staples, or application errors. Types of roof shingle stains, causes, cures, prevention. Case study examines causes of damaged roof shingles and granule loss.
We also provide a MASTER INDEX to this topic, or you can try the page top or bottom SEARCH BOX as a quick way to find information you need.
Mechanical Damage to Roof Surfaces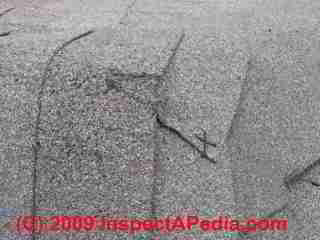 A roof surface can be damaged resulting in leaks, reduced life, or other troubles by events other than normal sun, wind, and weather exposure.
[Click to enlarge any image]
Examples include walking on fragile roof surfaces, walking or twisting and turning while stepping on hot asphalt or modified bitumen roof surfaces, stomping around on slates, wood shakes, wood shingles, cement asbestos or fiber cement shingles, and chopping ice to try to stop an ice dam leak.
Case Study of Damaged Asphalt Roof Shingles
Here we present a series of photographs of asphalt roof damage. A professional investigator documented these conditions and joined in a discussion of the apparent cause of damage shown in each photo. All of these pictures were taken on the North slope of an asphalt shingle Firehalt brand roof.
A windstorm adjuster for TWIA (Texas) inspected an insured's roof with a large amount of granular loss. The roof is in these photos is 10/12 pitch (hip with build ups) and was 11 years old at the time of inspection.
The roof is vented by turtle vents (4) and (1) turbine vent only (no ridge vent).
The shingles are Firehalt Brand (Certain Teed®) – 30 year shingles. In our opinion the damage was not, however, related to the brand. Roof consultants, manufacturers, suppliers, and building inspectors are invited to CONTACT us to offer further diagnostic comments about this case.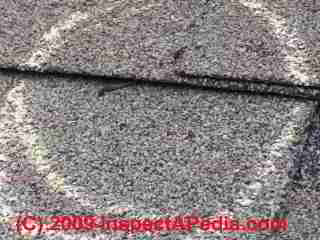 Damage due to improper installation – staple exposed, askew, not flush, wrong location & mis-nailed.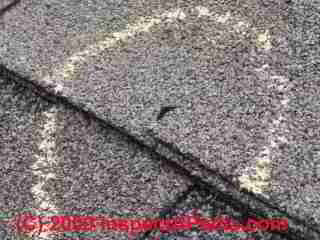 Looks like same type of damage as the prior shingle photo, due to improper installation – staple exposed, askew, not flush, wrong location & mis-nailed, but in this photo the staple itself is not visible.
STAPLES VS. NAILS FOR SHINGLE APPLICATION" [PDF], GAF Technical Advisory Bulletin No. TAB-R-2011-132 (2011) retrieved 2017/09/27, original source: https://www.gaf.com/Warranties Technical_Documents/Steep_Slope_ Technical_Advisory_ Bulletins/English_Bulletins/ Staples_vs_Nails_for_Shingle _Applications_Steep_Slope_ Technical_Point_TAB_R_2011_132.pdf
Excerpt:
Staples are not recommended by GAF and most industry organizations …Staples made of at least 16-gauge galvanized steel with a minimum crown of 15/16" (24 mm) have been and continue to be used by some applicators to install shingles.
If staples are used to install GAF shingles, our limited shingle warranty will remain in effect. However any problems resulting from the use of staples, including wind blow-off, are not covered by the warranty.
Watch out: See additional warnings about using roof shingle staples at ASPHALT SHINGLE STAPLE vs NAIL.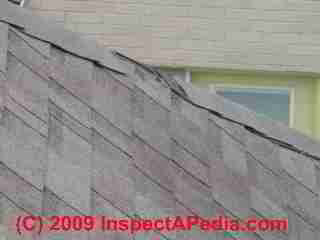 Damage due to blown off hip shingle, improper nailing is most likely, possibly wind and failure to seal.
See WORKMANSHIP & WIND DAMAGE for details.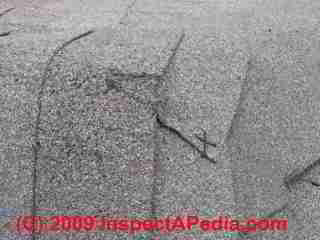 Damage due to improper installation – surface nailed broken shingle over excessive bend fracture – maybe installed in cold weather; granule loss on exposed top of hip/ridge intersection, weather or foot traffic.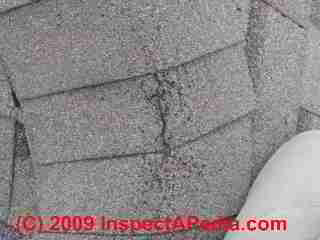 Damage due to cracked hip shingle, weather-damage granule loss around fracture – moisture penetration of shingle contributes to granule loss due to the fracture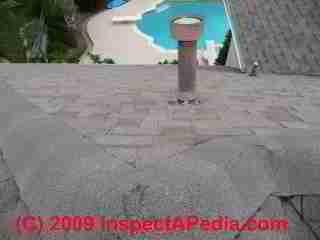 Damage due to same as the previous photograph: people often step right on this spot on roofs.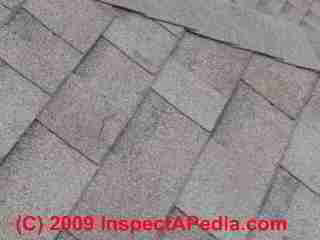 Photo not sharp, but this looks like a cracked shingle tab, defective product or mechanical damage (someone tried to lift the tab after it was sealed??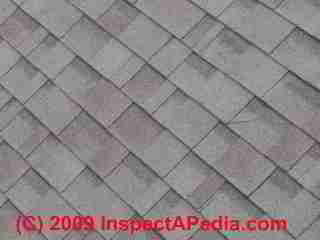 Damage due to diagonal tear in single, mechanical damage is most likely. See my article on thermal splitting but as this tear is not over a butt joint it is more likely due to tear during installation or tear if someone tried to lift the tab (less likely)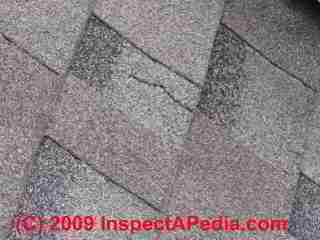 Damage due to vertical tear in shingle tab – IF this tear is over a butt joint (which it appears) this could be thermal splitting – if so the number and extent of these will increase on the roof; COULD be also torn due to application over a raised staple – you need to investigate this further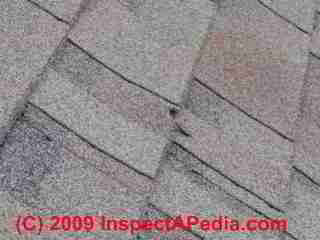 Damage due to shingle edge injury due to walking on the roof – note the wear on the very edge of most of the shingle tabs – looks like foot traffic wear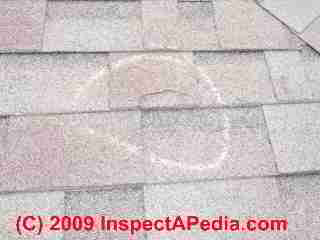 Damage due to torn shingle tab, appears depressed as if broken by foot traffic at low temp; if left side of tear originates at a butt joint, could be thermal splitting.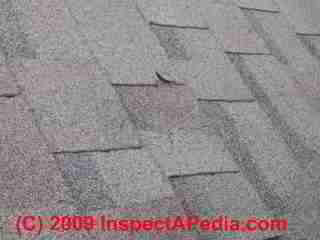 Damage due to what appears to be classic defective product, curling and thermal splitting, split runs through at least 3 shingle tabs in the photo.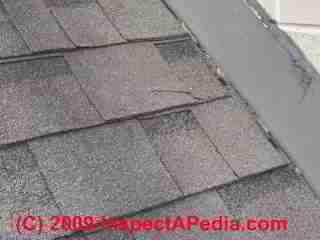 Damage due to diagonal tar near wall flashing, foot traffic or damage during installation.
Also the wall flashing may be improper and leak prone – single long counter flashing caulked to brick is unreliable, and step flashing may be absent (investigate further – possible clue of improper workmanship, look for step flashing at every shingle along this juncture by carefully lifting the counter flashing, or by carefully lifting some shingle tabs) – a second cracking torn shingle may be present at lower left of photo.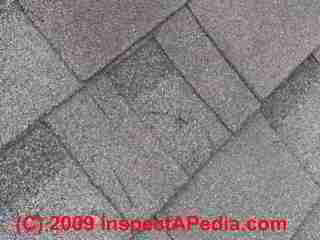 Damage due to cracked or torn shingle, note evidence of mechanical damage including the very straight cut to the left of the diagonal tear. Some granule loss to left of the straight cut at photo lower left – foot traffic looks likely as well as possible tool damage)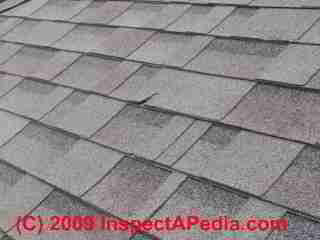 Damage due lifting, torn shingle tab at photo center, not over a butt joint, looks like mechanical damage or tear during installation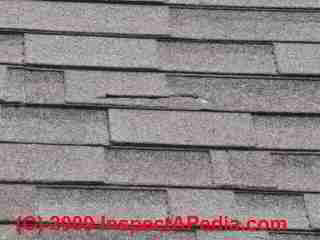 Damage due horizontal weathered tear across center of two laminated single tabs, exposed substrate, appears to be defective product or mechanical damage in storage, transport, or installation that later appears as a cut or tear.
This does not look like a splice shingle but the wear is similar.
See SPLICE DEFECTS on ASPHALT SHINGLES.
Conclusions About These Contributors to Asphalt Shingle Damage & Mineral Granule Loss on This Roof
Primarily, questionable or perhaps even poor workmanship, use of staples, mis-located, staples askew, high raised-corner staples, mis-stapled on top of shingles, foot traffic, mechanical damage, possibly excessive bending in cold weather at the hip/ridge appear to be the problems on this roof.

We also saw some minor mis-nailing or inadequate nailing leading to a single blow off at the roof hip.

Secondarily: a few of the cuts and damage could be defective product – see CRACKS in FIBERGLASS SHINGLES.

At least one cut was made by a tool or implement.

Weather does not appear to be a root cause of this roof damage, though once a shingle has been worn by walking or mechanical damage the exposure of the shingle substrate accelerates wear and granule loss.
We would not characterize the prime problem of this roof as "granule loss" which was the original owner's concern.

GRANULE LOSS from SHINGLES provides more details.
In our opinion the roof damage was not, however, related to the brand. Roof consultants, manufacturers, suppliers, and building inspectors are invited to CONTACT Us to offer further diagnostic comments about this case.
Walking on an Asphalt Shingle or Roll Roofing Roof can Cause Damage to the Roof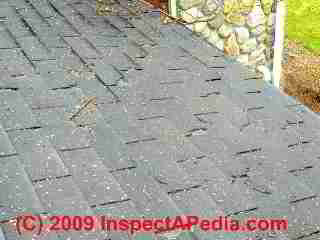 Walking on a roof can damage shingles in several conditions.
Asphalt Shingle Roof Damage from Walking on Fragile Roof Surface
Granule loss or actual shingle damage may occur on a roof being walked-on: walking on any asphalt shingle roof loosens some of the mineral granules from their attachment embedded in the asphalt used to impregnate and coat the shingle.
Walking on shingles that are brittle, cupped, curled, can damage them at any time, perhaps more so if the inspector steps on a raised, curled, or otherwise damaged portion of the shingle, or if the asphalt shingles are simply old, brittle, and fragile, even if flat.
We investigated a complaint against a home inspector charged with damaging a roof that we learned he had been smart enough to stay off of – inspecting from the roof edge by ladder.
But a contractor, called to bid on roofing repairs, stomped around inspecting the roof to make his repair bid. The result was conversion from a roof that needed replacement soon to one that needed immediate replacement. We could virtually see the footprints of the contractor, in a trail of broken shingles across the roof.
Asphalt Shingle Roof Damage during Other Repair Work
On roof repair work of other components, for example around a chimney, involving standing, moving, turning, placing repair materials on the roof surface without first protecting that surface from damage.
If there is a lot of roof traffic, such as when work is being done on a chimney, you may see "bald" areas of shingles with lost granules where people have been walking. This is damage caused by workers and is not a product defect.
Walking on fragile roof shingles. See CUPPING ASPHALT SHINGLES and CURLING ASPHALT SHINGLES.
Roof Damage from Walking on very Hot, soft Asphalt Roofing
We think it's subjective, and we don't have a specific number, but the variables underlying roof damage during an on-roof walking inspection include:
outdoor air temperature at the time of the roof inspection
sun exposure on different roof slopes – a shaded slope may be cooler and safe to walk-on even on a hot day
number of hours the roof has been exposed at various temperatures – longer roof exposure to sun and high temperature on a given day, walking on a roof in the last half of a very hot day, for example, is more likely to lead to damage
the nature of the foot traffic – walking carefully vs. standing in one place and spinning on your heels – the latter will certainly damage a hot soft asphalt shingle or roll roofing.
Alone no single number answers the questions raised by these factors. But certainly we've both seen damage to roofs when walked on during a hot day – when someone was careless.
Thanks to home inspectorCharlie Gallagherfor suggesting this added detail.
…
Continue reading at WIND DAMAGE to ROOFS or select a topic from the closely-related articles below, or see the complete ARTICLE INDEX.
Or see ASPHALT SHINGLE LIFE / WEAR FACTORS
Suggested citation for this web page
MECHANICAL DAMAGE of SHINGLES at InspectApedia.com – online encyclopedia of building & environmental inspection, testing, diagnosis, repair, & problem prevention advice.
INDEX to RELATED ARTICLES: ARTICLE INDEX to BUILDING ROOFING
Or use the SEARCH BOX found below to Ask a Question or Search InspectApedia
…
Ask a Question or Search InspectApedia
Questions & answers or comments about how roof shingles may be damaged, leak, or wear out not from natural means but from events or misuse or abuse..
Try the search box just below, or if you prefer, post a question or comment in the Comments box below and we will respond promptly.
Search the InspectApedia website
HTML Comment Box is loading comments…
Technical Reviewers & References
Click to Show or Hide Citations & References
Publisher InspectApedia.com – Daniel Friedman

Source